Nuts About Cakes Valentine Menu 2022
Nuts about Cakes Valentine Menu 2022
It's February, the second busiest season of the year after Christmas. Love is in the air, as everyone is either looking to gift or receive a package with love, hence we bring you the Valentine Menu
The following range of valentine packages represents the perfect gifts for special loved ones.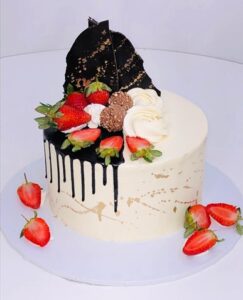 This is an 8 inches chocolate and red velvet buttercream cream cake, topped with chocolate balls, strawberries, chocolate spike, and melted chocolate spread.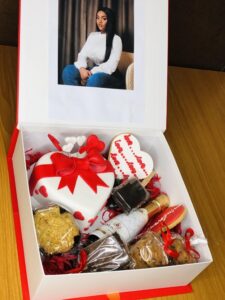 This fancy red box package is personalized with a picture of the recipient. It consists of;
6 inches heart-shaped cake, Mini sparkling wine, Chocolate chip cookies, Apple crumble muffins, Chocolate chip muffins, Glazed vanilla cookies, Valentine card, Brownie bars, 1 stem of Rose flower.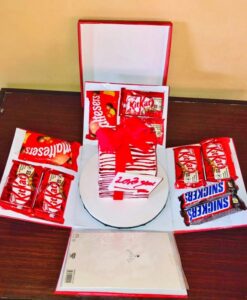 This box opens up explosively to reveal a 4 inches chocolate and red velvet double-layered fondant cake and a mix of the chocolate varieties.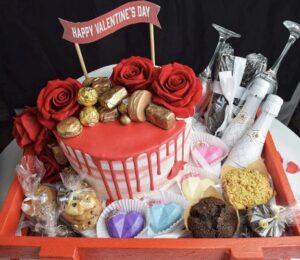 This is the ultimate giant load of sweet goodness; consisting of; a  6 inches signature cake, Two sparkling wines, Two champagne flutes, Cake loaf, Muffins, chocolate chip cookies, heart cookies, Valentine card, brownie bars, a bouquet of 3 Roses.  
The menu also includes a variety of Cake designs to choose from; as well as cupcakes and glazed heart-shaped cookies.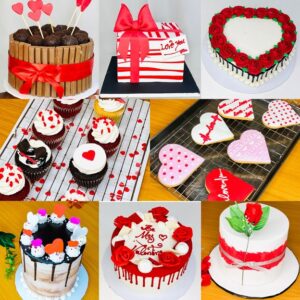 It's indeed a beautiful time of the year!!
For more details; simply walk into any of the stores, or dial up a contact number.
Or you can shop directly from the website by clicking here