16 Best Wedding Cake Designs in 2021 Copy
Best Wedding Cake Designs in 2021
We all know Weddings can be so expensive and stressful to plan right? Well, it doesn't entirely have to be, if only we cut our coat according to cloth. Lol …( that's easier said than done anyway ). I'm sure we can agree that for a bride, her wedding day is one of the most important ceremonial days there ever is, and there are top key elements that make up for just how special that day is. We have listed 16 best wedding cake designs in 2021
The following are the top priorities for the bride:
The wedding dress
Wedding cake
The venue
Catering services
And lastly, the general coordination of things.
You notice how I listed the cake as the second element right? Well, that's because it is the second most important part of every wedding. Choosing the right cake with the right budget is something no bride should ever have to stress about, consider it one less stress to deal with while planning your big day.
And here's why we are sharing the 16 best wedding cake design
At Nuts About Cakes, we understand just how important this day really is and even more importantly we understand that brides should have the opportunity to save some money without compromising on the quality, design, and outlook of their wedding cake. No one you know should ever be stressed about choosing the right wedding cake because guess what?
We have prepared a FREE DESIGN CATALOG showing 16 beautiful wedding cakes designs between the ranges of N65,000 – N244,000. We've been in the business of delivering exceptional cakes for really happy brides dating down over the last 11 years. We've also built the right team of consultants to help navigate the whole process of choosing the right cake, therefore, making it a lot easier through our free cake tasting & consultation
sessions.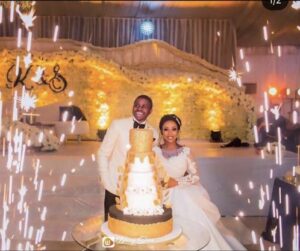 With tons of lovely cake designs in our catalog, offering you a wide variety of flavors to select, and generally talking you through the service delivery you expect on your big day, we basically ensure everything is perfect.
If you're a 2021/2022 bride. We implore you to take advantage of our annual wedding cake promo, and if you're not, you should do well to share this information with someone who needs it.
Be involved. Download OUR FREE DESIGN CATALOG here